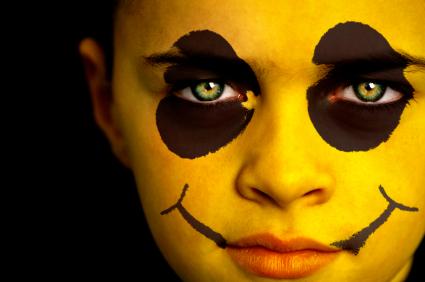 Do you wish you could have a great Halloween celebration without howling in fright over the sight of your empty wallet? Whether you're planning a small family get-together or throwing a bash for the entire neighborhood, careful planning is key.
Frugal Halloween Costumes
Dressing up is part of the fun of Halloween, but purchasing costumes from a specialty shop can be very expensive. Save money by using items from around your home to create costumes. For example, an old party dress can be a princess costume for a little girl with the addition of a wand and tiara. A flannel shirt, overalls, and a straw hat can be a farmer costume for a boy carrying a stuffed cow or pig. For adults, focus on costumes that feature a play on words. For example, a woman wearing a white dress with a pipe cleaner halo and smudges of dirt on her face or leaves in her hair can be a "Fallen Angel."
Face painting is a great way to create frugal Halloween costumes, but it can be expensive to purchase makeup kits. Make your own face paint by combining the following ingredients and applying with a cotton swab or paint brush:
3 tablespoons cornstarch
1 tablespoon flour
¾ cup light corn syrup
¼ cup water
Food coloring of your choice
For more frugal costume ideas, review the article Cheap Halloween Costumes at LoveToKnow Costumes.
DIY Decorations
Obviously, the best way to save money on Halloween decorations is to make them yourself. The LoveToKnow Crafts articles Craft Projects for Halloween and Craft Decorations for Halloween have ideas for easy decorations you can make.
If you're not into complicated craft projects, keep in mind that spray paint makes it easy to create dramatic yet frugal Halloween decorations. Paint twigs from your yard and put them in a thrift store vase with a few silk flowers black to create an interesting centerpiece. Paint rubber spiders, snakes, or insects silver and arrange them around the edge of a serving tray or your punch bowl. Add a few carved pumpkins and some spider webs purchased from your local dollar store to complete the effect.
Easy Halloween Party Food
When throwing a Halloween party, it's helpful to set a firm budget for food before you go shopping. Otherwise, it's too easy to start throwing things into your cart without considering the total cost of your meal.
Hot dogs are easy to prepare and sure to be a hit with young partygoers. Homemade pizza or chili may be options to consider as well, since these can be made in separate versions for children and adults.
For dessert, popcorn balls and caramel apples are fairly inexpensive Halloween treats. A Halloween dirt cake is also a good choice for a budget-friendly sweet treat. Halloween cupcakes are cute, but can be time consuming to create if you're not an experienced cake decorator.
When you're carving pumpkins for decorations, don't throw away the seeds! Oven-roasted pumpkin seeds make for a delicious and healthy snack. If you don't think your guests will enjoy munching on the seeds by themselves, incorporate them into a snack mix that also includes dried cranberries, mini chocolate chips, and unsalted peanuts.
Don't blow your entire party budget on beverages. Use drink mix and ginger ale to make a Halloween punch instead of serving expensive sodas to your guests. Float an icy hand made from a disposable glove in the bowl for a spooky finishing touch. If punch isn't your thing, try a spiced apple cider "witches brew" instead.
Have a Creatively Spooky Halloween
A successful Halloween party doesn't need to involve blowing your monthly budget on costumes, decorations, and food. By planning ahead and using items you already have around the house, you can entertain your guests in style while keeping your out-of-pocket expense to a minimum.