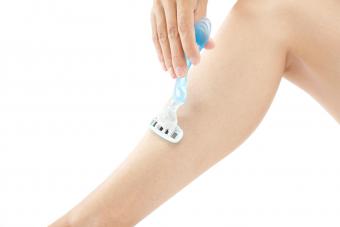 Razors can be expensive for both men and women, but there are also plenty of ways you can save money. From discounted razors to ways you can lengthen their lifespan, these tips will help you keep more money in your pocket.
Use Coupons for Brand Name Razors
Even if you're not into using coupons for your grocery purchases, there's a good reason to use coupons for razors. Many name brand razors offer high value coupons (such as several dollars off multi-packs), often making them lower in price than generic brands. You can find razor coupons in Sunday papers as well as digital store coupons and online store coupons if shopping online. If you have a favorite razor brand, sign up for their emails for potential coupons.
Stack Coupons and Sales for Cheap Razors
For the best bargains, look for times when you can combine a sale-priced razor with a coupon. Drug stores and grocery stores frequently put different brands on sale, so those are good places to check. Look for discounted sale prices or sales like Buy One, Get One half off.
Check Price per Razor
It can be tricky to know how to save when bombarded with lots of different prices and pack sizes at the store. Make sure to check the price per razor by looking at the looking at the unit price. That way you can compare the actual cost of each razor to make an accurate decision. This will typically be located on a tag on the shelf in front of the product.
Buy in Bulk
Buying larger quantities of razors at one time can often yield a lower overall cost. Check prices of larger packs where you regularly shop, buy at warehouse stores, or consider a bulk supply store that specializes in razors or personal care (such as West Coast Shaving). You may also be able to snag free shipping when going that route.
Consider Subscription Shave Clubs or Services
Subscription services like Dollar Shave Club and Angel Shave Club (for women) can save money over the cost of buying retail razors. The way many of them work is by providing you with a blade handle, and then you choose the cartridge type with the number of blades you prefer, though some (like Gillette on Demand) also have options for disposable razors. According to Deal News, choosing the Humble Twin subscription from Dollar Shave Club is as low as 64 cents per cartridge, while Angel Shave Club's three-blade cartridges are around $1.50 each.
Switch to Fewer Blades
The most expensive razors often have several blades, but you don't necessarily need them for a good shave. Many single or triple blade razors can give just as close of a shave without the extra cost. Experiment with different numbers of blades and go down to the lowest number that still does the job.
Skip the Extras
Things like conditioner strips, scented razors, and fancy designs often add to the cost of the razor. Stick with a solid razor option without all the bells and whistles to keep more of your hard-earned dollars.
Store Brand Options
Store brands may or may not save you money. The quality can vary substantially when it comes to health and beauty products, so while the brand from store X might be lower cost and do a great job, a razor from store Y might not work well and not be worth the money. Buy generic brands when they are on sale to test them out or stick with using coupons and sale prices for the name brands.
Make Your Razors Last
In addition to saving on your initial purchase, you can use these tricks to make your razors last longer so you won't waste money on them.
Dry Razors After Use
Drying your razors after each use can greatly extend their life span so you won't buy razors as often. According to Market Watch, it's possible to preserve a razor for up to a year when it's towel dried after every use.
Keep It Coated
Another way to prevent corrosion and preserve your razor is by dipping it or keeping it stored in a substance such as alcohol, mineral oil, vinegar, or Barbicide.
Sharpen Dull Razors to Use Longer
A dull blade doesn't do any good, and that's why some have turned to using denim to sharpen blades. Just run the blade up and down 10 times or more in one direction, then reverse and run it up and down in the opposite direction.
Use a Straight Edge (for Guys)
An old-fashioned straight edge razor can be a money-saving option for guys, and according to the Art of Manliness, it gives a great close shave as well. Although the initial cost of a quality razor can be $70 or more, you're freed from having to purchase blades or razors constantly. It's more environmentally friendly than disposables, too.
Use Baby Oil or Conditioner (for Women)
According to the Budget Diva, putting a little bit of baby oil on the blades of your razor before shaving your legs will help it last longer. Using conditioner or baby oil instead of cream or gel when shaving can also help it to last longer.
Save on Your Shave
You don't have to pay high prices for decent razors. Use these tips and tricks to save money when you buy, as well as void buying razors as often.