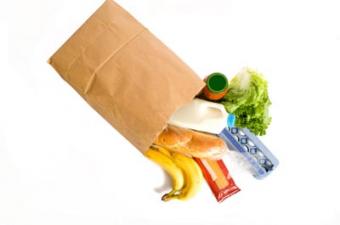 Are you looking for ways to cut your household budget? If so, take a good hard look at your weekly grocery shopping habits. We talked to Jeanette Pavini, savings expert and Coupons.com spokeswoman for advice on how families can save money on groceries.
Plan Ahead
The easiest way to reduce your grocery bill is to simply reserve some time each week for meal planning. "Setting aside 30 to 45 minutes a week to plan menus around store ads and clip coupons can save you hundreds (even thousands) of dollars a year," says Pavini. Start with the following:
Take a look at your pantry to determine what items you already have.
Visit online shopping and couponing sites to find discounts and deals, and pick up copies of local grocery store ads to see what items will be on sale.
Create a meal plan and shopping list using this information; try doing an ingredient search at All Recipes if you're having trouble coming up with ideas.
Plan meals around seasonal fruits and vegetables, as their cost will be lower when they are in season.
Learn how to freeze, can, and preserve fresh produce so your family can enjoy it year round while avoiding paying higher prices for it in the off-season.
Create a Price Book
If you're like most people, it's difficult to remember exactly how much you normally pay for a loaf of bread, a carton of eggs, or a gallon of milk. A price book could be the answer.
"A price book lists the average prices of items that a consumer typically shops for," says Pavini. Price books can also make comparison shopping more efficient. "This makes it simple to judge whether or not a sale price is in fact a deal too good to pass up, and figure out which stores routinely offer the best deals."
How to Make a Price Book
Pavini says the first step to making a price book is getting a three ring binder. "Divide a binder into categories, alphabetically or by aisle (produce, dairy, bakery, and frozen food), whichever system makes more sense to you," she explains. "Under each category start listing items you frequently buy like cereal, ice cream, or peanut butter."
Next, start tracking your shopping history. Pavini suggests listing these things for each item:
Date of purchase
Store where purchase was made
Brand
Size of package
Final sale price
Unit price ($/ounce)
You can use store receipts, store ads, or store website prices to fill in your price book, and as Pavini notes, you will soon see some interesting results. "As you begin to fill it out, you'll start to see patterns emerge. One store might have the best price for cereal and another might price butter lower," she says.
As you continue to use your price book, you'll become a more informed shopper, and will be able to identify good deals faster. "Now when you see an ad that says "BOGO STRAWBERRIES!" you can judge whether it's truly a good deal or if the strawberries have been marked up and labeled BOGO [buy one get one free] to give you the illusion of getting a good deal," says Pavini.
Use Coupons
Pavini says using store ads and coupons when planning menus will save even more on your weekly groceries. "You'll score savings gold when an item is on sale and you have a coupon for it, which is why it's important to always enter the store with a plan."
Coupons can really take a chunk out of your grocery bill with a little planning and organizing. Start with the inserts in your Sunday newspaper, then check out the following sites for free printable grocery coupons:
When looking for coupons for your next shopping trip, remember that you only save money if you buy items your family will actually eat. Don't buy unnecessary items just because the price is right. To really save money on your groceries, combine coupons with in-store sales.
"Most grocery stores will let you use coupons with sale items and if your store doesn't, then it's easy to find a store that will," Pavini says. "Combining coupons with sale items is one of the best ways to slash your grocery bill."
Mobile Coupon Apps
Do you carry your smartphone with you everywhere, including to the grocery store? If so, coupon apps are a great way to collect and organize coupons by "clipping" them electronically, without the hassle of cutting out paper coupons. "Some stores will even let you clip certain coupons directly to your store loyalty card," says Pavini. "All you have to do is register your card at Coupons.com and you'll be able to clip coupons directly to your card from your computer or mobile device."
Apps such as Passbook for iPhones allows consumers to replace paper items typically carried in wallets, such as loyalty cards and paper coupons with a file on their iPhone instead. You can either load electronic coupons from other sites, or use another app like SnipSnap (available for Android and iPhones) to take a picture of a paper coupon and load it into Passbook. The coupons are then scanned from your Passbook account and applied to your bill at the grocery checkout.
If you don't use an iPhone, there are many other mobile grocery coupon apps to try including:
Check Out Store Brands
If you haven't already tried store brand groceries, now may be the time to start. Store brands offer many staples, such as flour, sugar, milk, pasta, and canned vegetables.
"Store brands are often marked down lower than other brands, but there are typically no coupons offered for them," cautions Pavini. She also points out that to get a good deal, you really have to know your prices. "Additionally, they [store brands] are almost always marked on sale to give you the feeling that you're getting an even better deal. That's where the price book will come in handy. By using your price book, coupons, and shopping from the store circular, it is possible to get even lower prices on your favorite brand name products."
Get Online
The Internet is a great place to find resources aimed at helping shoppers cut grocery costs. In addition to coupon sites, check out sites for online flyers as well as the main grocery store websites, which may have downloadable coupons right on their sites. "Some stores will even let you clip certain coupons directly to your store loyalty card," says Pavini.
Keep your money-saving online correspondence organized so you can find what you need easily when it is time to go shopping. Pavini suggests creating a separate email account for online coupons, sales emails, and newsletters from your favorite retailers.
"Many of us are reluctant to sign up for these emails because we don't want them cluttering up our work and personal emails," she acknowledges, "but the reality is, if it's a store you shop at, then this is one of the best ways to stay in the loop on the best deals."
Buy in Bulk
Consider buying the items your family always uses in bulk when you can find a coupon or sale that will give you the best possible price. Storing products such as extra breakfast cereal or peanut butter is a simple way for even the busiest family to save money.
If you don't have enough extra room in your kitchen to store bulk purchases, consider designating an unused closet in another room for these items. Stick with non-perishable items, or smaller quantities of items with a shorter shelf life, otherwise you could find yourself actually wasting money if you have to throw out spoiled food.
Beans and Meatless Mondays
Another quick way to slash your grocery bill is to reduce your meat costs. If a completely vegetarian lifestyle is out of the question, consider preparing one or two meatless meals per week. Make it fun by enjoying new recipes on Meatless Mondays. A grilled cheese sandwich and a bowl of tomato soup, cheese enchiladas, stir fry, or broccoli and cheese frittatas make excellent inexpensive dinner choices for busy families. Incorporate beans and legumes into main meals for a healthy and inexpensive protein alternative.
If you just can't stomach the idea of not eating meat, reduce your food costs by using less meat in your casseroles and skillet dishes. For example, use ¾ pound meat in a casserole that normally calls for one pound, and stretch the recipe with additional vegetables, sauce, or a side dish.
Stick With Your Frugal Grocery Shopping Plan
When you head to the grocery store, don't be tempted by impulse purchases. Have a plan, a list, and your coupons ready, and stick to them. Don't be afraid to stand your ground if store staff question your coupons. "Be assertive with store clerks," says Pavini. "Know a store's coupon policy and if they are reluctant to use a coupon, you can always ask to speak with a manager."
Technology changes quickly, and not everyone is familiar with all of the mobile apps available for saving money on groceries, Pavini says, especially with service. "It could be a clerk's first time ever seeing that type of coupon, so be patient, but persistent with them!"