Frugal dinner recipes are a great tool for keeping your grocery budget under control. Whether you're cooking for your entire family or making meals for one, having access to a stash of quick and easy meal ideas is an essential part of frugal living.
Beef and Vegetable Soup Recipe
Adding soups to your selection of very frugal recipes is a healthy, economical choice. You can make the most of lean, inexpensive cuts of meat and great sales on frozen and root vegetables. Soups also help you create variety in a menu without a lot of fuss. This recipe serves eight.
Soup Ingredients
5 cups beef stock
3 cups water
10 ounce lean beef, cut into thin strips
2 large potatoes, such as Russet or Yukon, diced
2 large carrots, diced
2 celery stalks, diced
1/2 bag frozen corn
1 small onion, chopped
2 teaspoons. mixed herbs
Salt and pepper
Soup Instructions
Sauté the vegetables in the stock pot with about 1 cup of broth for about 5 minutes.
Add beef and stir for another 5 minutes until meat begins to brown.
Add all liquid to the pot and bring to a boil.
Add spices, cover and simmer for 1 hour.
Skim away any foam on the surface, season to taste, and serve hot.
For reheating the next day, add a little more water and some additional frozen vegetables, such as peas, broccoli, or green beans.
Country Bread Recipe
You don't need a machine to make terrific homemade bread. Just a little time. Homemade bread adds a special touch to any meal, and can be sliced thick and toasted, great for dunking into soup. This recipe makes two loaves.
Ingredients
2- ¼ ounce packages active dry yeast
6 to 7 cups of all-purpose flour
2 eggs, beaten
2 cups warm water
1/2 cup sugar
1/4 cup vegetable oil
1 tablespoon salt
Instructions
In a large bowl, dissolve yeast in water.
Add oil, eggs, salt, sugar, and 3 cups flour to yeast and mix well with a fork.
Gradually add additional flour to form a soft dough.
Place dough on a flour surface and knead for about six minutes, until dough is soft and elastic.
Place in a lightly greased bowl, rolling around the bowl until coated.
Cover with a dish towel or a paper towel and let rise in an unheated oven for until doubled in size (approximately one hour).
Punch dough down on a floured surface, divide into two loaves and place in greased loaf pans.
Cover again and let rise for about one hour or until doubled in size.
Bake at 375 F for about 25-30 minutes until the top is golden brown.
Remove loaves from pans and cool the bread on wire racks for about 15-30 minutes.
Store leftover unsliced bread in a plastic zip bag for up to four days.
Tip: Instead of buying bread crumbs or croutons, make your own. Use days-old leftover bread crumbled for casserole toppings, or cut bread into bite-sized pieces, bake for 10 minutes at 375 F, and you have great salad croutons.
Macaroni and Cheese
Macaroni and cheese is a classic frugal vegetarian meal option, but traditionally not very healthy. One easy upgrade for this dish is to simply toss a can of tuna and some frozen mixed vegetables into your favorite boxed macaroni. Another idea is to try the following recipe for homemade macaroni and cheese with tofu.
Ingredients
16 ounces elbow macaroni
1/2 cup evaporated milk
16 ounces silken tofu
8 ounces grated cheddar cheese
1 teaspoon seasoned salt
1 teaspoon Tabasco sauce, if desired
Instructions
Cook macaroni, then drain and set aside.
In your blender, add tofu to the evaporated milk. Blend until smooth.
Add the seasoned salt and Tabasco sauce, if desired.
Pour the tofu mixture into pan, cooking over medium heat until bubbly.
Slowly add in cheese, stirring until it is completely melted.
Add macaroni and cook for 3 to 5 minutes, stirring constantly.
Remove from heat to let cool before serving.
Ramen Stir Fry
Since ramen noodles can often be purchased for between 10 and 25 cents per pack, it's not surprising they are a staple in the diets of college students around the world. On their own, ramen noodles aren't particularly healthy. However, you can boost the nutritional value of this cheap meal by whipping up a tasty stir fry using inexpensive ramen as the base. This recipe serves two. Adjust the quantities as needed for a larger number of people.
Ingredients
Two packages of ramen noodles in the flavor of your choice
One green pepper
One onion
3 eggs
2 tablespoons roasted peanuts
Stir fry seasonings such as soy sauce, brown sugar, lime juice, and sesame oil (to taste)
Instructions
Soak ramen noodles in warm water.
Sauté onion and green pepper.
Scramble eggs, using the same pan as the onion and green pepper.
Add your ramen noodles, peanuts, and the stir fry seasonings of your choice.
Mix well, stirring constantly until heated through
Fried Rice
Resist the temptation to order take out Chinese food by whipping up a batch of fried rice at home. The rice can easily be refrigerated and reheated for lunch the next day, if you wish. This recipe serves four.
Ingredients
4 cups brown rice
Chicken bouillon
4 eggs
1 cup frozen peas and carrots
1/2 small onion, diced
Garlic
Soy sauce
Ginger
Instructions
Cook brown rice in chicken bouillon.
Sauté onion in pan, add peas and carrots to defrost.
Scramble eggs in the pan.
Add rice, soy sauce, and ginger.
Stir thoroughly.
Simmer until heated through, approximately 5 to 10 minutes.
Poor Man's Stroganoff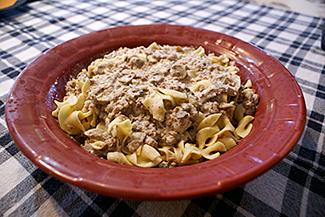 This comforting dish is similar to stroganoff, but the ingredients are more budget friendly. This recipe serves six.
Ingredients
2 10.5 ounce cans cream of chicken soup (use 99 percent fat free if desired)
1 16 ounce container sour cream (fat free can also be used)
1 16 ounce package egg noodles
2 6 ounce cans sliced mushrooms
1 pound ground beef
Instructions
Boil water and cook egg noodles according to package instructions.
Brown the ground beef in a skillet until cooked through, and drain fat.
Stir cream of chicken soup, mushrooms, and ground beef together in a two quart saucepan.
Simmer over medium heat for 10 to 2 minutes.
Once the chicken soup mixture is heated thoroughly, turn the heat down to low. Add the sour cream and leave on low heat for approximately five minutes or until heated through.
Serve the sauce over the egg noodles.
This recipe pairs well with broccoli or green beans.
Hamburger Hot Dish
Ground meat, potatoes, and vegetables make for a filling combination that is tasty and inexpensive. This recipe serves six people.
Ingredients
1 pound ground beef (can substitute ground turkey if desired)
4 to 6 extra-large potatoes, peeled and cut into bite size pieces
8 ounces frozen corn
8 ounces frozen green beans
2 10.5 ounce cans cream of chicken soup
One small onion, diced (optional)
Instructions
Place potatoes in a covered casserole dish and microwave until cooked through.
Brown ground beef or turkey in dutch oven. Drain fat.
Continue cooking over medium heat, adding onions and cooking until nearly translucent.
Add frozen green beans and corn, stirring frequently, for 6-8 minutes or until warmed through.
Add cream of chicken soup and continue cooking for approximately five more minutes.
Gently fold in potatoes once cooked.
Season as desired with salt and pepper. This dish pairs well with salad or green beans on the side.
Budget Burritos with Simple Salsa
For a lower-cost alternative to your favorite Mexican takeout, try these budget burritos. This recipe serves six to eight people.
Burrito Ingredients
1 package burrito size soft tortillas (use whole wheat if desired)
1 pound ground beef or turkey
2 bags boil-in-the-bag white or brown rice
1 can regular or fat-free refried beans
1 eight ounce package cheddar cheese
1 cup shredded lettuce
1 cup diced tomatoes
Sour cream
Salt and pepper
Simple Salsa Ingredients
2 14.5 ounce cans diced tomatoes
1 1/2 teaspoons. cumin
1/4 teaspoon. red pepper
1/2 Tbs. salt (add more salt if desired)
Instructions
Cook the rice the rice according to instructions on the package.
Brown the ground beef or turkey and season with cumin, salt and pepper to taste. Leave on low to keep warm.
Place the refried beans in a small saucepan and heat on low until hot.
Grate the cheese (this is usually cheaper than buying pre-shredded cheese).
Place the two cans of diced tomatoes in the blender along with the cumin, salt, and red pepper.
Blend over a medium or sauce setting until blended but still chunky.
Warm each burrito in the microwave for approximately ten seconds or until warm.
Layer each burrito with rice, beans, ground meat, cheese, lettuce, and tomatoes.
Garnish with salsa and sour cream if desired.
Serve extra salsa with whole grain tortilla chips and fresh dipping veggies like carrots and celery.
Creating Your Own Frugal Dinners
Coming up with your own dinner recipes that are budget-friendly can be fun, and you can have plenty of variety. Keep in mind that pre-made and pre-packaged foods can be much more expensive than simple, basic ingredients and in-season produce. Browse different main dish recipe ideas to create meal plans based on cheap ingredients you and your family love. Doing so will help you save money and eat well.