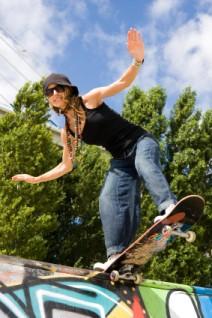 Getting free skateboard stuff is a great way for hobbyists and amateurs to keep their boarding costs down while still having the latest gear and trends.
Free Online Skateboarding Resources
The Internet offers plenty of resources for skateboarders who need information on their sport. These websites are a place to meet fellow boarders and get tips and tricks, too. Pick up some great free advice on these websites:
In addition to the sites with skateboarding information, you can also find free stuff through various other websites. Check out your favorite boarder's blogs or a company's social media page, such as Facebook, MySpace, and Twitter. They often have giveaways or link to other companies offering freebies and samples to skateboarding fans. For example, Spot Skate Shop offers free, digital tosses for items like skate park passes, hats, equipment, and more.
More Free Skateboard Stuff
An easy way to get free skateboard stuff is to ask friends and relatives for gear and items they no longer use. You might find yourself the recipient of new or gently used shirts that don't fit the original owner, barely used protective gear or even some stickers, posters and other items the boarder has not needed or wanted.
Try checking out the free local listings on craigslist. In addition, if a Freecycle group is active in your area, you can look into getting skateboarding stuff from group members.
Contests
Contests are one of the best ways to get free skateboard stuff. Hone your skills and work on your tricks in order to be the best at the next contest in your area. Look for contests without entry fees, and sign up early to be sure your name is on the list. Do not overestimate your skills, as you have a smaller chance of winning contests that are for more advanced boarders. Some contests offer shirts or gear with entry along with prizes, while others just award prizes. Check local skate parks and skateboard stores for information on upcoming contests.
Sponsorship
Gaining sponsorship as a skateboarder is a goal for many who enjoy the sport. Unlike pro skateboarders who usually are paid to make appearances or receive large cash prizes in major contests, a sponsored one is not paid. Instead, he or she is rewarded in company gear and possibly receives reimbursement for travel or paid contest entries.
Obtaining sponsorship is difficult, but doable. The first thing to do is perfect your skateboarding skills and tricks. Get noticed by winning numerous local amateur contests, and make friends with people who own boarding stores in your area. Sometimes it helps to make a video that shows off your best boarding skills to give to representatives from companies. Wearing the company logo in the video is a good way to be noticed, too.
Sponsorship requires dedication and responsibility. The company may want you to sign a contract or follow their rules when in public. Decide if the freebies are worth it before you become a sponsored boarder.
---
Free skateboard stuff is available to boarders who know where to look for it. The biggest and best items are usually offered via contests and sponsorships, so get out and practice today.